No Saturday or Sunday Games.         October 25 is estimated date for return to regular schedule.
While we are in our temporary location there will be no Saturday or Sundays Games!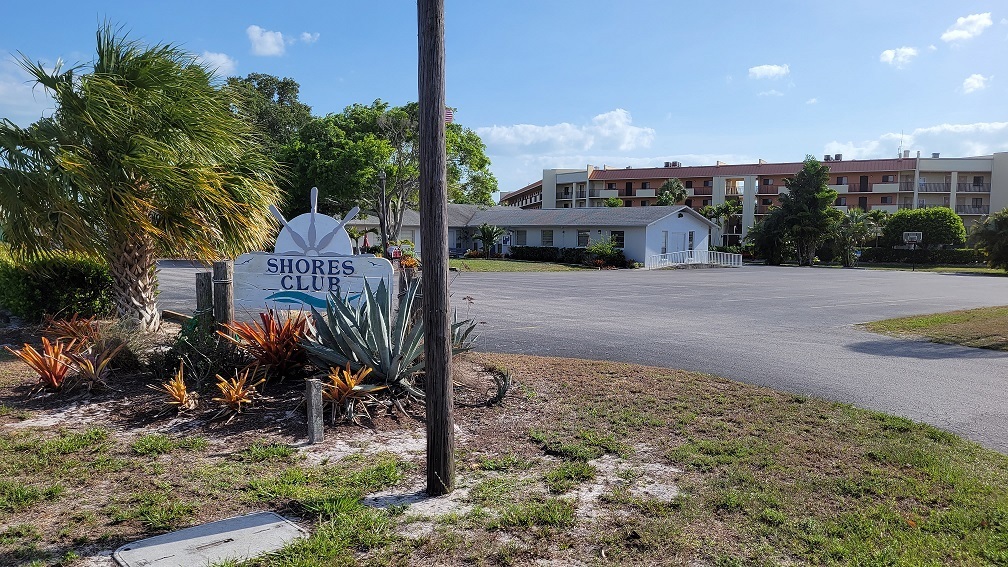 Starting June 7 and for approximately 3 months Bonita Bridge games will be held at the Bonita Shores club house at the corner of 3rd & West Streets in Bonita Springs. West Street is the 3rd traffic signal (ignoring the flashing yellow safety light) on Bonita Beach Rd west of US41. After a left turn there and two intersections you'll see the above scene on your right.
If you have a need to play in a particular direction (E/W, N/S) you should make a reservation to help assure you will be seated properly.
Over the past 11 months Bonita Bridge has demonstrated that playing face-to-face bridge can be done in a safe manner.   The integrity of our staff and players in avoiding contamination of others as well as the safety measures we have employed have proven effective in prevention.
When we first reopened we told you all about the investment we made in making our facility safe for playing bridge in the face of the pandemic. It might be time to revisit that topic!
Since we could not enforce the 6 foot rule and still play bridge we erected barriers that keep players safely separated.  After a while we realized players didn't need to wear masks while sitting at the table - they already had masks in the form of  our plexiglass barriers.
The more difficult task was getting everyone to put their masks back on when they were away from the table.
We acquired a fogging machine and an approved anti-viral solution.  We santitize the public areas after each game.  The solution is required to stay "wet" on surfaces for 2 minutes and then is reactivate by contact with moisture within 24 hours.  So if someone sneezes and it hits our sanitized surfaces the antiviral media goes into action and kills any foreign life.  The bidding boxes used are included in the sanitation process.  We do offer bidding boxes for sale for personal use.
We restrict entrance to a single door and  take everyone's temperature upon entry.     We did try to institute a cashless system - more to protected ourselves from having to handle money.
Positive-pressure, non-recirculating air-conditioning system. We didn't do it but were fortunate to have the system that forces air up and away from the lower playing area forcing it out of the building - not to return.
U-V light wands and hand sanitizing dispensers at each table.
We have 28 sets of boards and conduct only 24 games a month . This means the cards are used only once per month. Any viral contamination is surely dead after that length of time.
Bonita Bridge First in the Nation
As early as April we began the research and  planning that would permit our players to safely return to the table.  After a sizable investment in safety measures Bonita Bridge reopened its doors in mid-June; probably the first in the nation.
Our efforts have not gone unnoticed!  There are now over 40 clubs across the nation that have re -opened to provide the face-to-face  experience.  Numerous phone calls from far away clubs provided them with the details of our preparations.  And in the last week we were visited by a handful of people representing nearby clubs because their members are anxious for the traditional way to play the game.  Some of these clubs tell us they are anticipating opening by mid November.
Pay in Advance Discount is Now Available
To reduce money handling and the congestion before games, we ask that you pay in advance. In the past, many of our friends have bought those little "Free Play" cards that were used in exchange for payment at game time. We are going one step further. You will be able to buy your entries on-line, and we will give you a baker's dozen (13) when you buy 12.  When you buy an entry online, be it one or the bargain (13 for 12) you will receive a receipt via text or email.  The cost for the baker's dozen will be $120, a single entry will cost $10. Our popular 199er/299er special price will be extended to all games restricted to less than 300 master points. You will be able to buy entries for these special games at a rate of $96 for 13 entries. Buy Now