Please be advised that our website is still incomplete and will be further developed.
Due to the rise in COVID cases we will be requiring that everyone wear face masks
We are abandoning club memberships and dues. See the next article regarding 2020 memberships.
Free lessons will be available for anyone with less that 100 master-points.
The building owner has graciously offered us additional space so we can offer lessons without sacrificing time slots for games.
We will be adding games for player with less than 100 master points that coincide with lessons.
Until further notice our limit number of tables require that we ask you to make reservation. Reservations and prepayment are available under the Reservations menu item
If you bought a 2020 membership You will be receiving 2 free (in club) games. Did you know:
ACBL charges clubs additional fees for all extra point games?
about 60% of the games we offer are "extra point" games?
Some clubs ask their players to pay a higher fee when these games occur. Bonita Bridge in the past absorbed those extra fees offsetting them with the membership dues. Clubs are not required to participate in the games, but most clubs do participate. We feel fortunate to have so many loyal friends that we will no longer ask you to pay a membership fee.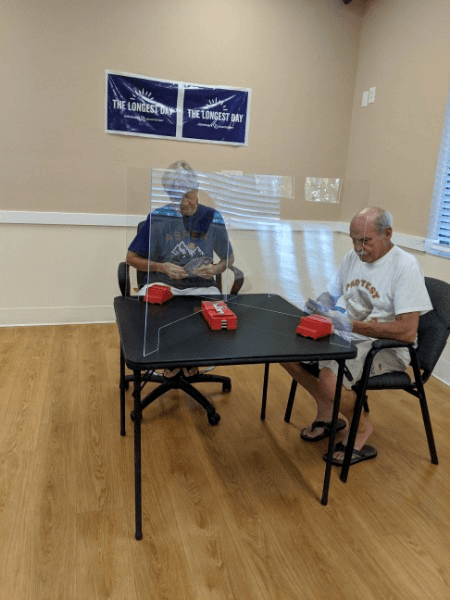 Social distancing was originally suggested because the distance of 6 foot was deemed to be further than the virus particles could travel in the air. As we all know masks were first thought not to be necessary and we found that at places where people distancing could not be adhered to, such as at the grocery store, that Plexiglas barriers were erected. Early in this period masks were difficult to find and Florida was label 'lucky outliar' due to its low infection rate. However, our state is now a hotbed of rising positive cases, but the death rate remains low. The increase has been associated with the increase in testing, while the failure of dire results is attributed to the lower age of those testing positive. All told, nothing has changed very much for the average bridge player; the risk is relatively low so long as precautions are taken.
To reduce money handling and the congestion before games we ask that you pay in advance. In the past so many of our friends have bought those little cards that were used in exchange for payment at game time. We are going one step further. You will be able to buy your entries on line, and we will give you a bakers dozen (13) when you buy 12. Rather than a pack of 12 "free play" cards we will keep a record for you. When you buy an entry online, be it 1 or the bargin (13 for 12) you will recieve a receipt via text or email. The message will provide your previous and your new balance; and each time you use a credit you will recieve a similar text/email with your new balance. The cost for the bakers dozen will be $144, a single entry will cost $12. Our popular 299 special price will be extended to all games restricted to less than 300 master points. You will be able to buy entries for these special games at a rate of $88 for 13 entries or $8 each.